10 Funniest "Metalocalypse" References To Metal + Culture Bands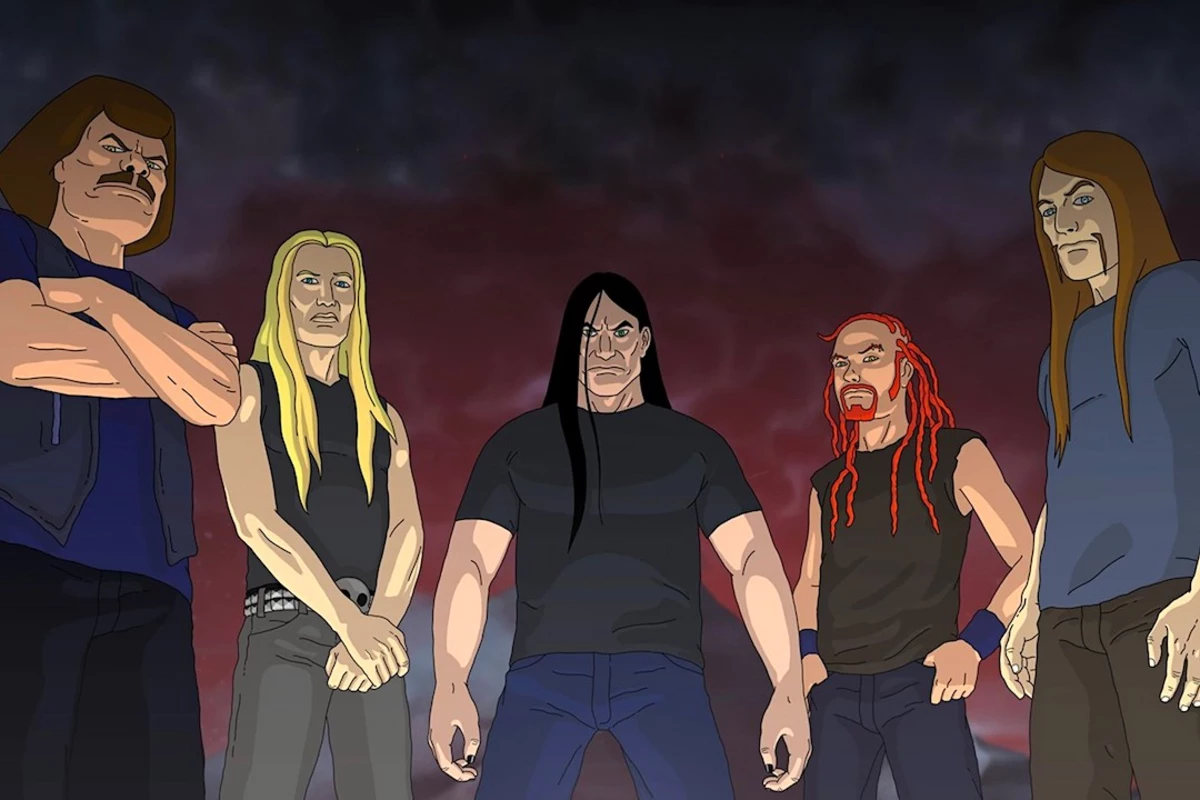 Every metal fan should be a fan of Metalocalypse.
Created by Brendon Small and Tommy Blacha, the animated comedy is a complete love letter to style. And its endearing and believable (yet peculiar) protagonists, the melodic death metal quintet Dethklok, have actually churned out legit albums and tours with the help of rockers such as Gene Hoglan, Mike Keneally, Nili Brosh and Bryan Beller – among other revered musicians.
After all, Metalocalypse, which originally aired on Adult Swim for four seasons through 2013, is an affectionately hilarious satire of the history and ways of metal. And rock stars such as Dave Grohl, Kirk Hammett, Scott Ian, Devin Townsend and Angela Gossow got in on the act by voicing characters from the show.
Yes, even the greatest rockers tip their hats to the program which is perfect for metalheads who love dark humor. And the journey will continue with a Metalocalypse movie that was announced last year.
But of all the superbly silly and clever nods to metal bands that Metalocalypse has provided over the years, the 10 we've compiled below must surely be the funniest.
Cannibal corpse items at Finntrolls supermarket in "The Curse of Dethklok" (S1, E1)

The inaugural episode is full of inside jokes. After the death of Dethklok's chef, they try to learn how to cook for themselves. As they helplessly shop at Finntrolls Supermarket (itself a shrewd acknowledgment of the Finnish folk metal project), they cause all sorts of havoc. This prompts lead singer Nathan Explosion to grab a cashier's microphone and spout several Cannibal Corpse song titles: "Price check!" Clean up aisle 6! Slip of rotten bodies! And don't forget our special sale on Every Bone Broken Chicken! To hurry up! Enjoy our delicious Hammer Crushed Face! Aisle 3. He laughs as he says it, and so do we.

Nathan Explosion works at Dimmu Burger in "Go Forth and Die" (S1, E13)

Admittedly, Dimmu Borgir's name begs to be cleverly ridiculed, and the series takes advantage of this by having Nathan Explosion work at Dimmu Burger. In the clip, he dreams of the rest of Dethklok dying horribly on stage, leading to him working at the fast food joint a year later. Dressed in the company's usual attire, he desperately tries to help an obnoxious teenage customer who eventually recognizes him and – accompanied by the shift manager – taunts Nathan for his incompetence. Nathan's childish responses to their questions and accusations, as well as his graphic rage and self-harm in the fryer, are delightful.

The band visits a Swiss-type record store in Norway in "Dethdad" (S2, E15)

There are many notable things about the Mayhem Euronymous guitarist, including his legendary music store, Helvete. So it was only a matter of time before Metalocalypse incorporated it into an over-the-top storyline, albeit indirectly. When rhythm guitarist Toki Wartooth learns that his father has cancer, the whole troupe flies to Norway. Before going to his house, they go to town and venture to "the first black metal record stores where everything begins" (as Toki puts it), Drep Du Selv. Inside, the Euronymous-esque clerk wears corpse paint and speaks in a decidedly elitist but non-threatening tone that adds to the joke.

Guns N' Roses is parodied in "Snakes n' Barrels" (S1, E9)

Few metal bands have experienced as much turmoil as Guns N' Roses, making them the perfect target for it. behind the music a pastiche of drummer Pickles' former band, Snakes N' Barrels. The segment kicks off with meticulous authenticity by having a dark narrator tell the quartet's troubled history; meanwhile, exaggerated images reminiscent of the GNR's rise, fall, and overall trajectory are displayed. (Thunderbottom bassist Antonio DiMarco even sports Slash's top hat.) It's an ingeniously fun send-off that continues throughout the episode, and thankfully the skated quartet returned in both parts of the season. 2 "Snakes n' Barrels II", also .

Dr. Rockzo (various segments)

Dr. Rockzo – whose name and catchphrase are undoubtedly inspired by WASP's "Doctor Rockter" and Def Leppard's "Photograph" – is a fan-favorite secondary character who appears throughout the series (starting in " Birthdayface"). With his outlandish drug habit, high-pitched voice, garish outfit, relentless libido and relentless energy, he's an amalgamation of impossibly embellished singers such as Vince Neil, Bret Michaels and David Lee Roth. Fittingly, his escapades and ridiculous ideas annoy — if not outright hurt — those around him, and the fact that he has his own LP (Dr. Rockzo's Greatest Hits) cements its place as a meta-parody of equally flashy frontmen.

Multiple references to St. Necrophagist's Hospital

Generally the best Metalocalypse the gags come from naming innocuous — or even pleasant — things after extreme genre sets (as the rest of this list shows). This is the case of the recurring St. Necrophagist Hospital, which bears the name of the German technical death metal band. For example, Season 2's "The Revengencers" ends with Dethklok playing for a group of seriously injured patients. Then, Season 3's "Dethhealth" sees the group reluctantly getting checked out and undergoing various treatments. The editing here is particularly comedic, as are all the things bassist William Murderface thinks about while a doctor examines his penis.

Supply of pets for cattle decapitation in "Diversityklok" (S4, E2)

It's a blink moment and you'll miss it, but it's too good not to mention. At the end of the series, Toki harbors resentment towards the other four members because they constantly exclude him from their activities. In response, he starts his own club – the "Special Persons' Invites Club" – but immediately invites everyone except Murderface. Shortly after, we get a montage of the four men hanging out at numerous locations, including Cattle Decapatation Pet Supply (misspelling intentionally). The more you think about it, the more absurd the incongruity between the name and the purpose of the company becomes. If only it were real.

Behemoth Productions employees in "Dethstars" (S1, E19)

The penultimate episode of Season 1 (titled after the Swedish industrial metal quintet) finds Dethklok trying to become actors. To get their movie, ocean of blood, above ground, they work with Behemoth Productions, which is an overt nod to Polish death metallers. Leading the team is the absurdly aggressive and unintelligible studio head James Grishnackh, whose name sounds like Count Grishnackh (the pseudonym of Varg Vikernes of Burzum). Other references are cook Lupe Asesino (Asesino), director JF Amarth (Amon Amarth), and actors James Cronos (Venom mastermind Conrad "Cronos" Lant) and Valerie Vrangsinn (Carpathian Forest bassist Vrangsinn). Wow, that's a lot.

Young Nathan Explosion attends Exhorder Elementary in "Deathgov" (S2, E10)

Another example of Metalocalypse nailing ridiculous juxtapositions comes at the start of "Deathgov." A teenager, Nathan Explosion, stands shyly when his teacher announces that he is now the second-grade class president at a school named after the American thrash/groove metal trio. At the same time, a belligerent trucker flees the cops; after shouting "I'm crazy about God's creation" (thus evoking the Deicide track), he crashes into the classroom and brutalizes the teacher and a handful of students. Rarely has the carnage been so comical, and Nathan's complete lack of reaction is the icing on the cake.

Scream-activated lighting in "Renovationklok" (S3, E1)

Let's be honest: as sick as throat singing can be, it's basically a bit silly too, and it begs to be satirized. Enter the Season 3 premiere episode and the many makeovers of the group's Viking rowboat lair, Mordhaus. After their residence is severely ravaged by the Revengencers (an extremist anti-Dethklok organization), the group installs several improvements. The biggest is undoubtedly the Nathan Explosion scream-activated lighting in every room. As he explains to his bandmates: "See, you come home and it's dark. 'Where are my keys?' WHAAAAA! Over there." A purple spotlight appears as he roars. It's brilliant.