Granath vs. Wright Oslo verdict: Hodlonaut not liable for defamation in Norway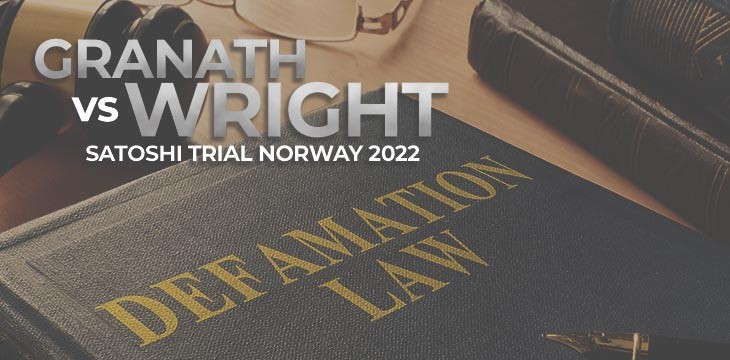 The Oslo District Court ruled: Magnus "Hodlonaut" Granath's Twitter campaign against Dr. Craig Wright did not constitute unlawful defamation in Norway. Granath's first round against Wright is over: attention now turns to the parallel UK libel case, which is expected to be heard next year.
To get to this point, it took a two-week trial in which lawyers painstakingly explained to the court Hodlonaut's social media war against Dr. Wright – where Granath called it a "fraud" and a "mentally ill" while inviting others to join (including a particularly vile Telegram group formed solely to intimidate perceived enemies of BTC). The court also heard testimony after testimony describing Dr. Wright's activities in the years before Bitcoin was released: Former business associates testified that Dr. Wright introduced the idea of ​​Bitcoin to them before 2008 and often discussed the idea of ​​Bitcoin. idea of ​​trust. transactions and global digital money – ideas at the heart of bitcoin before it was close to the public domain. Dr. Wright's cousin Max Lynam testified that he and his father ran Bitcoin's first node and mined the first coins.
Ultimately, however, the court found that Granath's tweets did not constitute defamation, in part because Dr. object of criticism, and therefore of Granath. campaign did not affect his right to privacy. Additionally, the court ruled that Granath's tweets were merely value judgments consistent with the general level of discourse on Twitter. Notably, the judge said she did not take a position on whether or not Dr. Wright was Satoshi Nakamoto in reaching her judgment, although she found that Granath had a factual basis for his tweets. due to public discussion and media perception of Satoshi's identity.
Halvor Manshaus, partner at Schjødt, Dr Wright's Norwegian firm, said:
"Unfortunately, the court concluded, after a broad assessment taking into account that Dr. Wright is a public figure in the Bitcoin community, that Granath's communications were not defamatory in a legal sense and did not infringe his right to privacy. We disagree with the court's assessment. Private citizens should enjoy the same protection on Twitter as on other media platforms.
"Anonymous bullying and harassment online is likely to have a chilling effect on meaningful debate and the civil exchange of views and opinions. Individuals should not be deterred from seeking to challenge persistent and widespread online abuse or intimidation. We have reviewed the court's decision and, after discussing it with our client today, it is clear that the district court's decision will be appealed. »
The decision is an escape for Granath, who nearly fell over in a car accident of his own making. The Oslo lawsuit was brought against Dr. Wright by Granath, in hopes that it might force the question of whether his Twitter campaign was legal in the Norwegian legal system and anticipate any lawsuit Dr. Wright might bring in the UK. That didn't stop Dr Wright from being able to sue Granath in the UK for defamation, meaning Granath would now face two lawsuits over his tweets.
Being confronted with sworn testimony from disconnected crypto professionals who were adamant that Dr. Wright was working on Bitcoin before 2008 must have seemed like a very bad omen for Granath. Whether Granath ever questioned whether Dr. Wright was an impostor or whether he had simply regurgitated claims he had read elsewhere cannot be said for certain, but he could not expect to that Dr. Wright produce as many witnesses who could give first-hand accounts of Dr. Wright working on Bitcoin and related concepts before the project was ever known to the public.
Even with Granath having avoided all liability, it's hard to pick winners here. Combing through Granath's sustained attacks on Dr. Wright, the ugly side of the Bitcoin community has been illuminated in excruciating detail. Tweets from Granath and his online cohort calling out Dr. Wright and other mentally ill people, scammers, pedophiles; invitations from Granath for others to join "Craig Wright is an Imposter" week; and a telegram group set up to coordinate attacks on BTC "enemies" with a particular focus on their leadership.
These spoke for themselves, but they were also juxtaposed with the testimony of autism expert Dr Ami Klin, who told the court that Dr Wright's autism diagnosis would have made bullying particularly close. from is home. If it's not libel, it's hard to imagine anyone condoning Granath's behavior and the bullies he amassed against Dr. Wright. Indeed, none of Granath's own witnesses would approve of his campaign and the language used in it when questioned on the stand.
Granath now has confirmation that his tweets did not constitute defamation in Norway. But in truth, this is just the first round of an extended fight: in addition to any Oslo call-ups, Dr. Wright will face Granath again in the UK next year in the same campaign. Interestingly, a similar Twitter outburst by BTC blogger Peter McCormack was found to be defamatory by UK courts earlier this year.
Watch Granath vs Wright Satoshi Norway Trial Coverage Livestream Recaps on the CoinGeek YouTube channel.
New to Bitcoin? Discover CoinGeek bitcoin for beginners section, the ultimate resource guide to learn about bitcoin – as originally envisioned by Satoshi Nakamoto – and blockchain.