Welfare schemes are not free: Kejriwal | Latest Delhi News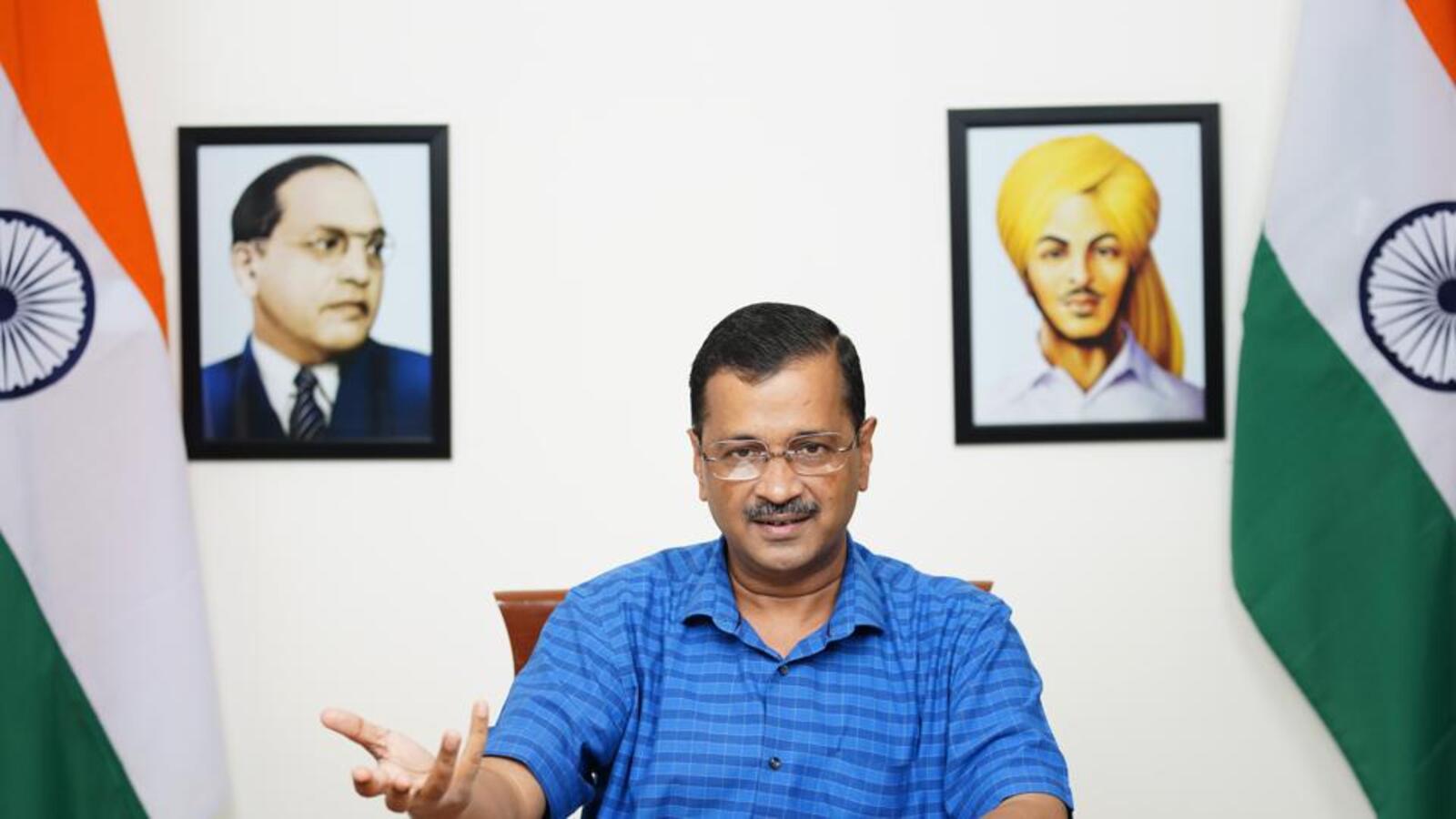 The day his Aam Aadmi party sought to intervene in a public interest litigation in the Supreme Court, claiming that campaign promises such as free water, free electricity or free public transport are not "free but merely a state fulfilling 'constitutional responsibilities' to create a fair society, Delhi Chief Minister Arvind Kejriwal in virtual address lashed out at Bharatiya Janata Party and Union Government without naming them, claiming that "the same people who create a ruckus about free benefits for poor and middle-class citizens have written off the value of the debt ₹10 lakh crores to a handful of people.
"A law should be introduced to declare such activity (bad debt cancellation) as treason and those responsible should be punished. It is also worth probing the amount of donations that these people have made (to the ruling party). One party believes in parivaarwad (nepotism), while the other believes in dostwad (crony capitalism)," Kejriwal said, adding that his Aam Aadmi Party (AAP) would usher in "bharatwad" (national interest) in the country.
The AAP and the Bharatiya Janata Party (BJP) have been locked in an intense struggle over the "politics of free".
On July 16, while speaking at an event in Uttar Pradesh, Prime Minister Narendra Modi denounced the culture of giving gifts.
"'Revadi culture' is very dangerous for the development of the country," Modi said, calling on people not to fall in love with this culture.
The Prime Minister used the term 'revadi', a popular North Indian sweet often handed out during festivals, as a metaphor for gifts pledged by various parties to seize power.
"Those who are behind this 'Revadi culture' do not believe in building highways, airports and defense corridors. Together, we must defeat this thinking and remove this culture from politics," he added.
A BJP leader and lawyer, Ashwini Kumar Upadhyay, has also filed a PIL in this regard, which is being heard by the highest court which has sought suggestions from all stakeholders on how to end the practice of give gifts before the elections.
"Some people try to create such an atmosphere in the country where they want people to believe that free education, healthcare, electricity and water are a crime; they want people to think that this is causing losses to the government and that it needs to be stopped. 39 countries like Denmark and Norway provide free and quality education to their children, 9 countries like Canada and United Kingdom provide free health care while 16 countries like (United States) of America and l Germany provide unemployment benefits. These countries have become rich powers because they provide free good education and health facilities to their people, their rulers don't cancel their friends' debts," Kejriwal said.
BJP spokesman Gaurav Bhatia at a press conference slammed Kejriwal for his remarks. "AAP sucks on the pitch, but wants to become a hero by giving revadi… Arvind Kejriwal makes promises but doesn't keep them. The AAP should learn from the BJP led states to learn policy making and planning… The epitome of corruption is the Aam Aadmi Party," Bhatia said.
In his speech, Kejriwal claimed that "the same people who create a ruckus about free benefits for poor and middle-class citizens have forgiven debt worth ₹10 lakh crores from a handful of people. Some of these people are their best friends. They imposed the GST on edibles across the country. They agree to let the common man die, but they cannot bring them any relief. However, they wrote off the debt of a handful of billionaires.
He added that the narrative against free benefits for citizens is being created with the aim of ending free education, electricity and healthcare. "Only those who have money will be treated and those who have no money will be left to fend for themselves. Governments will not care whether they live or die. An atmosphere is created to project that giving away free electricity is a sin and should be stopped. Only ministers should have free electricity and not the common man.
"We are celebrating the 75th anniversary of independence, but we have forgotten that our leaders failed to provide our children with free world-class education," he said.
Kejriwal not only defended the "gifts" given by the AAP government to Delhi such as free electricity up to 200 units and free water up to 20,000 liters per month, but also demanded that more programs of this type, including an unemployment benefit, should be initiated by governments.
(with contributions by Isha Sahai Bhatnagar)